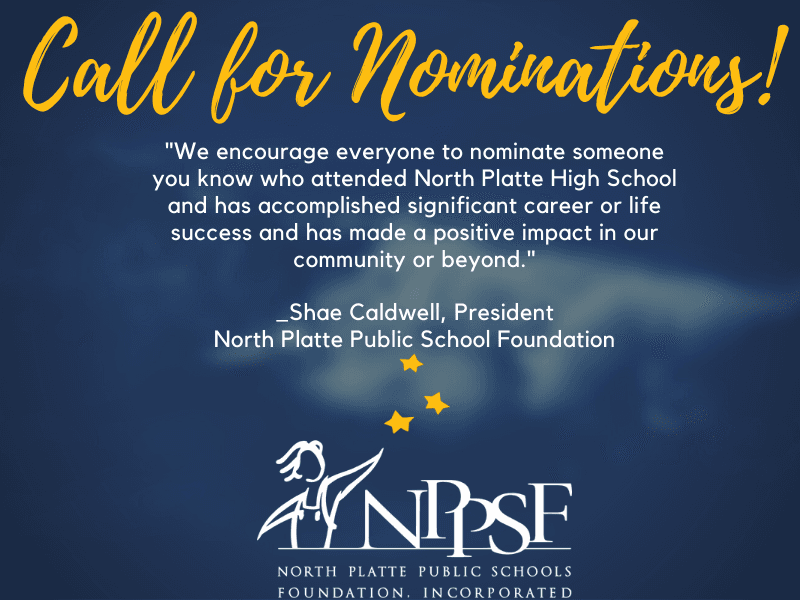 NPHS Distinguished Alumni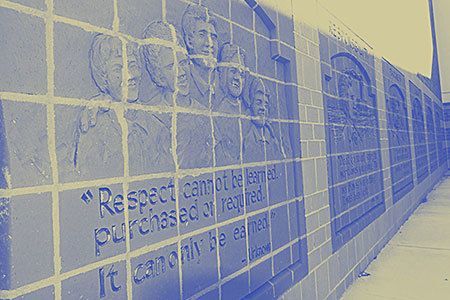 The North Platte Public School Foundation and North Platte High School honor a group of Distinguished Alumni each year. These awards recognize the accomplishments of North Platte High School's most notable graduates.
A committee of Foundation directors, NPHS administrators, alumni and community review applications that are good for three years. Nominations are accepted year-round.
Click the button below to view or download the form below to make your nomination. Contact the North Platte Public Schools Foundation offices for more information.
---
Congratulations to our 2023 Distinguished Alumni
2022 Distinguished Alumni
---
2022 Distinguished Alumni Speeches
Past NPHS Distinguished Alumni Award Winners
2022

Rod Anderson (1979)—Business
Scott Orr (1972)—Service to the North Platte Community, Business

2021

Deborah J Murphy (1968)—Arts
Marvin Webb (1965)—Business, Community Service
Gilbert Wilkinson (1960)—Business, Service to Youth

2018

Joe Staroska (1992) Business and Service to North Platte
Colonel Jeff Buck (1987) Military Accomplishments

2017

Donald E. Paull (1942) Business
Dr. Kimberly (Satterfield) Krull (1973) Education
Mr. Jay Wilkinson (1983) Business and Humanitarian Pursuits

2016

Robert McFarland (1968) Education
Dr. Ivan McMurtry (1961) Medicine

2015

Butch Rasmussen (1957) — Business and Community of North Platte
Richard McNeel (1964) — Business
Matthew Martin (1989) — Athletics

2014

Eliot Mack (1990) — Engineering and Business
Mike Swain (1972) — Community Service and Law Enforcement
Connie Cook (1970) — Humanitarian Pursuits and Business

2013

Byron Boslau (1962) — President, CEO and board chairman, Farmers Mutual Insurance of Nebraska
Chuck Schwartz (1968) — Sportscaster and businessman
Jim McFarland (1965) — Attorney, retired NFL and Husker football player
Dr. Jim States (1962) — Dentist


2012

Dr. Ed Raines (1971) — Cardiovascular and thoracic surgeon
Margene (Ruff) Beatty (1966) — Administrator of Educational Service Unit #16
Tom Hansen (1965) — Nebraska state senator and rancher

2011

Dr. Kim Baxter (1972) — Optometrist
Dr. Janice Olson (1976) — Pediatric hematologist and oncologist
David C. Redding (1971) — NFL football coach

2010

Charles Ferguson (1952) — Banker and businessman
Dr. Donald Gorder (1968) — Music educator, attorney and musician
Val Skinner (1978) — Professional athlete and humanitarian
Dr. Elaine Gentry Mardis (1980) — Scientist


2009

William E. Splinter (1943) — Agricultural engineer
Rod Wenz (1953) — Businessman and volunteer

2008

Rae Wilson Sleight (1933) — First chairperson of the North Platte Canteen
Robert Thomas (1963) — Business leader
Robert A. Phares (1958) — Community leader

2006

Maj. Gen. Butler B. Miltonberger (1916) — Army commander
Rhonda Seacrest (1962) — Community leader
Ted Long (1950) — Artist and sculptor

2004

Dr. Edward C. Elliott (1890) — Educator
Don C. Craig (1932) — Soldier and civic leader
Guy Richard Dunn Jr. (1948) — Architect
James D. Whitaker (1955) — Businessman and community leader

2003

Daniel E. Craig (1932) — Army infantry commander, WWII
Carol Haerer (1950) — Artist
Robin D. Lynch (1979) — Army officer and aviator
Daryl A. Mundis (1982) — International attorney
Dr. Harold L. Noe (1949) — Minister

1986

Ben G. Elliott (1906) — Chairman of Mechanical Engineering Department at University of Wisconsin
York A. Hinman Jr. (1921) — Service leader and businessman

1985

Robert B. Crosby (1927) — Former Governor of Nebraska
Donald D. Rosenburg (1952) — Professional disc jockey