Awarding NPPSD Employees
---
NPPSF recognizes the hard work of the NPPSDistrict employees monthly.  The Foundation celebrates excellence in education with the Bulldog Employee of the month and our business partners.
---
Coming in 2023-Make a difference with YOUR nomination!
It helps keep great teachers in the classroom
Research shows that teachers who see the direct positive impact they have on students' lives stay in the profession longer — reaching even more students.
It helps illuminate the value of teaching
Your nomination story helps inspire the next generation of teachers.
The North Platte Public Schools Foundation is now accepting nominations for following: Teacher of the Year PreK-5, Teacher of the Year 6-12, Classified Employee of the year, and Administrator of the Year. Nominations will be open March 1-March 31, 2023. Awards will be given out at the end of the school year and celebrated on July 28, 2023 at Education After Hours.  Bulldog of Excellence will be awarded to one of the "monthly" employees members.
Nominations should be submitted online or sent to the North Platte Public School Foundation, 301 W. F, North Platte, NE 69101.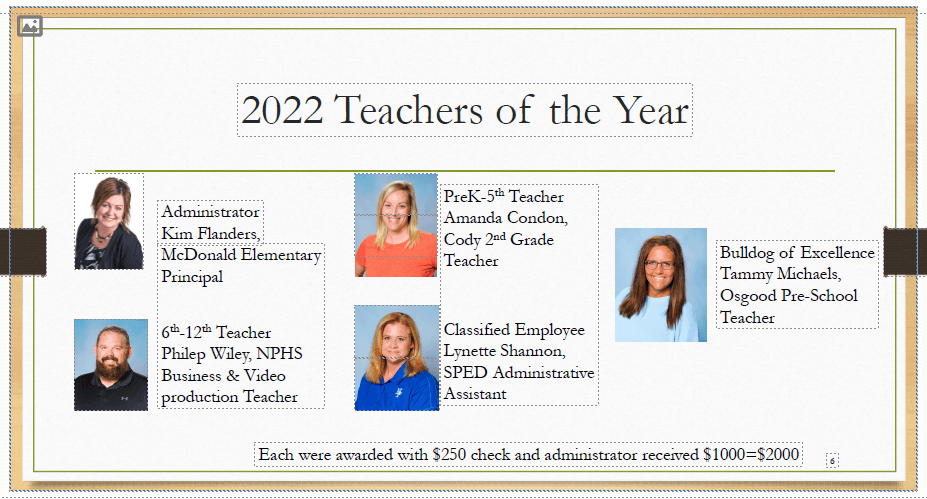 These awards recognize and encourage superior professional effort to improve instruction and to cultivate the continuation of education excellence in the schools. Teacher and Staff  Award Winners will receive a plaque and a $250 cash award. Administrators will receive a plaque and $1,000 extra budget authority for their building/administrative area.
Nominees must be current teachers, administrators, specialists, counselors, or support staff members (secretaries, custodians, para educators, bus drivers, food service, etc) in the NPPSD.
Nominations for the awards may be received from students, parents, community members and employees of the NPPSD by using the online or print nomination form. Educators and staff who are nominated will be notified. A selection committee composed of the NPPSF Executive Director, Board and community representatives will select the award winners. Awards will be given at the end of the year and celebrated at Education After Hours on July 28, 2023.