Dress Down for North Platte Public Schools September 22nd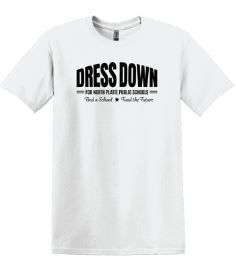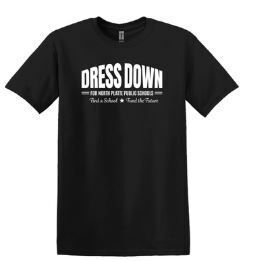 Join us in making a difference for North Platte Public Schools! 
Let's kick off our mission to support public education, specifically North Platte Public Schools with helping students reach their fullest potential. Purchase a shirt, find a school and fund the future generation. Purchase one of our awesome shirts, and $20 from each sale will be donated to the school of your choice. Your contribution helps fund the future generation. So, buy your Dress Down Day t-shirt now to wear on September 22nd.
Share photos of you wearing your t-shirt on social media with hashtags #WeAreNPPS, #DressDownNP, #NPPSFFundASchool. 
September 10th is the last day to order online to receive your order in time for September 22nd.
Dress Down Day will raise much needed funds to support our teachers and over 3500 NPPS students! These funds will be a kick off for Change Wars that will occurs September 13-20. Here's where the real action begins! Each school will battle for education with change.  The classroom at each elementary school that has the most change will walk the track representing their school prior to the Bulldogs taking the field on September 22, 2023.  Middle and High Schools will be battling for some fun prizes and an ice cream social.
Before the game come celebrate with us at the Backyard BBQ on September 22nd as we come together for a friendly competition. It's also the day when the NPHS Bulldogs take on the Kearney Bearcats! Let's celebrate our collective efforts and the impact we're making!
Together, we can make a lasting difference in our community. Don't miss out on this fantastic opportunity to support education and empower our youth.