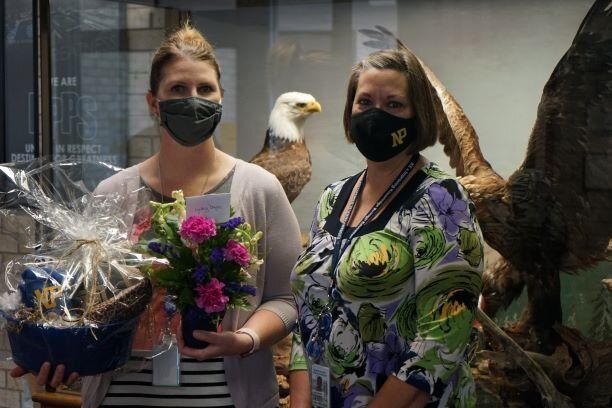 Congratulation to Mrs. Lyndsey Douglas who was recognized as May Staff Person of the Month. Mrs. Douglas has been with the district since 2008. She started teaching 2nd grade at Jefferson and then 4th grade at McDonald. In 2018 she was named principal at Eisenhower. She has also been a HAL Leader and Middle School Volleyball Coach. She earned her Masters of Education Degree in Curriculum and Instruction in 2013 and will be transition to her new district position of Director of Elementary Teaching and Learning in June 2021.
Mrs. Douglas has boosted the morale of Eisenhower so much in the last three years. It wasn't terrible before but she listens to all staff members and handles things with grace. She notices great things teachers are doing and lets them know how proud she is of them even when they think they are on a sinking ship. In November she draws a staff member's name and we write them little notes on why we are thankful for them—this carries on into December because she includes kitchen and custodial staff as well. Then she gets us through December with the 12 days of Christmas which every day she does special things for the staff. I have enjoyed all of the principals I have worked with the past 16 years, but I feel Mrs. Douglas is very deserving of this Staff Member of the month. She has a vision and very much a forward thinker. The interests of her students are her first priority. Mrs. Douglas handles staff, students and parents with finesse. —Kay Wright, Eisenhower Administrative Professional
This month Doodads and Fandangles sponsored the basket filled with special treats for Mrs. Douglas.  Prairie Friends and Flowers sponsored the floral arrangement.  Staff members are awarded monthly.
The North Platte Public Schools and NPPS Foundation developed this award to recognize the good things staff are doing throughout the District. The nomination from their peers symbolizes the esteem and appreciation that everyone has for our school district employees.